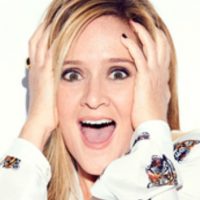 TBS(LOS ANGELES) — Full Frontal host Samantha Bee is sorry/not sorry for calling Ivanka Trump a "feckless c**t" during her show broadcast earlier this week.
At a podium accepting an award from the Television Academy in Hollywood Thursday night, Bee declared, "Every week, I strive to show the world as I see it, unfiltered. Sometimes I should probably have a filter. I accept that. I take it seriously when I get it right and I do take responsibility when I get it wrong."
But Bee regretted that "lost in the repercussions over one bad word" was the fate of "1,500 missing migrant children."
While her show placed the blame for that squarely on the Trump administration, Bee on Thursday night laid the blame on "…past administrations" for immigration policies that can see families separated during attempts to cross the border illegally.
"[W]e aired a segment on the atrocious treatment of migrant children by this administration and past administrations," Bee said, referring to President Obama by saying, "Sometimes even the ones who look best in swim trunks do bad jobs with things."
"Our piece attracted controversy of the worst kind," she admitted.
Instead of focusing on the slur, Bee said, "[W]e all should have spent the day incensed that as a nation we are wrenching children from their parents and treating people legally seeking asylum as criminals. If we are OK with that then really, who are we?"
Bee's Ivanka Trump insult led to outrage online, even among some fans, and prompted some sponsors to flee her TBS show. She later tweeted an apology, writing, "I would like to sincerely apologize to Ivanka Trump and to my viewers for using an expletive on my show to describe her last night. It was inappropriate and inexcusable. I crossed a line, and I deeply regret it."
Copyright © 2018, ABC Radio. All rights reserved.