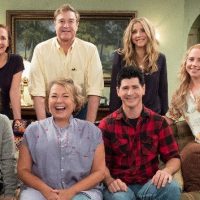 ABC(LOS ANGELES) — As the Roseanne cancellation saga continues to unfold on Twitter, those who knew the comedian long before the show returned to ABC this year are speaking out.
Stan Zimmerman was a writer on the original Roseanne run on ABC in the 1980s and 1990s. He says he doesn't recognize the Roseanne Barr who made the racist comment on Twitter that got her show cancelled, and who's continued to fan social media flames since.
Zimmerman told ABC News that the Barr he knew was committed to "helping the LGBTQ community" and "cared about the underdog," and "this sudden turn" troubles him.
Zimmerman said that while public meltdowns are nothing new for Barr, who's been very open in the past about her mental health issues, the way her latest show was cancelled is what troubles him.
"It hurts so much that it may [now] be gone forever, and the legacy of it gone," he told ABC News. "That's why I had wished that it wasn't so sudden … I wish there was some creative way that she could have gone away — the character, to rehab — and they have such strong actors and they could have gone on and tell the important stories of middle America that need to be told, because nobody else is telling [them]."
In 1994, Barr said publicly that she had been diagnosed with multiple personality disorder. Then in 2001, she told Esquire magazine that she has a total of seven personalities, some of whom she has named, including Baby, Cindy, Susan, Joey and Heather.
Zimmerman says he "miss[es] the Connors already," referring to the sitcom's fictional family, led by characters Dan and Roseanne Connor, played by John Goodman and Barr. He added he hopes "they can find a home somewhere."
Copyright © 2018, ABC Radio. All rights reserved