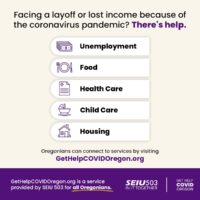 SEIU 503 launched a new website today to help Oregonians impacted by COVID-19 get the help they need and put food on the table. GetHelpCOVIDOregon.org connects all Oregonians to services like unemployment benefits and the Oregon Health Plan.
"When we saw the unemployment numbers after COVID-19 hit, we knew we had to do something to help," said Melissa Unger, executive director of SEIU 503, which represents 72,000 public services workers and care providers in Oregon. "Our members are the people who make these services work, and we care deeply about helping Oregonians access them in this time of need."
As a record number of Oregonians face job loss or reduced hours due to the COVID-19 pandemic, an increasing number of people will be turning to state and private resources for help. Unfortunately, the state doesn't have a one-stop center for people to apply for everything they might need. Filing for unemployment benefits, health care, food benefits, child care and housing requires negotiating through five or six different state agencies and applications.
The website provides information and links on what people need to apply for the following:
Unemployment insurance

Supplemental Nutrition Assistance Program (Food stamps)

The Oregon Health Plan or other health care coverage

Employer Related Child Care

Housing services
SEIU will be adding information to the site in the weeks ahead and adding information in Spanish, Chinese, Vietnamese, and Russian language as well.
GetHelpCOVIDOregon.org has the following important tips for people applying for benefits:
Don't wait to apply for benefits. With the sudden rush of applications, it's important to get applications in the pipeline.

If at all possible, apply online. The unprecedented demand for benefits has created longer wait times for phone centers and iit is taking longer to process applications.

The additional money to individuals from the federal stimulus package passed last week will not affect people's ability to qualify for the Oregon Health Plan / Medicaid or the Children's Health Insurance Program.