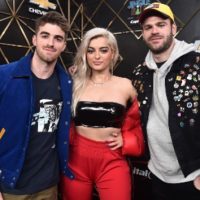 Alberto E. Rodriguez/Getty Images for iHeartMedia
The Chainsmokers and Bebe Rexha collaborate with many different artists, but they've finally found their way to each other with their hit "Call You Mine." According to The Chainsmokers, working with Bebe is something they've always wanted to do, because they've known each other since before both their careers really took off.
"What's wild is the first, like, songwriter session we ever did…was with Bebe," recalls The Chainsmokers' Drew Taggart.
"She had a song with this group called Cash Cash called 'Take Me Home,' and we had remixed it and that kind of put us together," he explains. "So we've known her from, like, day one."
"To have finally have a song with her now — even kinda seeing each other on our way to where we are now, and you're always going, like, 'O.K., let's get [a song together] someday!'" Drew adds. "And we finally have one, it's the perfect one, so it's pretty serendipitous, this song, y'know?"
But with both artists, if you wait five minutes, they'll be working with someone else. Bebe recently dropped a new single called "Harder" with Jax Jones, while The Chainsmokers are teasing their new video for the song "Takeaway," a collabo with Illenium and Lennon Stella.
Bebe hits the road with The Jonas Brothers on their Happiness Begins tour August 7, while The Chainsmokers kick off their World War Joy tour with Lennon Stella and 5 Seconds of Summer on September 25.
Copyright © 2019, ABC Radio. All rights reserved.