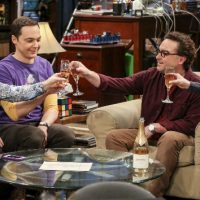 Michael Yarish/Warner Bros. Entertainment Inc. © 2018 WBEI(LOS ANGELES) — CBS has announced that The Big Bang Theory will wrap up its 12-season run with an hour-long series finale May 16.
For those counting, that leaves just seven shows remaining, including the supersized finale of the hit show.
The sitcom — starring Jim Parsons, Kaley Cuoco, Johnny Galecki, Mayim Bialik, Melissa Rauch, Simon Helberg, and Kunal Nayya — remains one of TV's most popular shows, but the network decided to pull the plug on the series when Parsons chose to opt out of a 13th season. He can still be heard as the narrator of his character's spin-off show, Young Sheldon, which continues on the network.
The Big Bang Theory airs Thursdays at 8 p.m. on CBS.
Copyright © 2019, ABC Radio. All rights reserved.