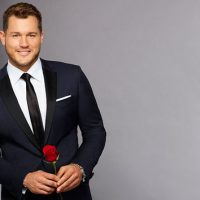 ABC/Craig Sjodin(NEW YORK) — So where did Colton Underwood head to after jumping the hotel fence last week and running off into the night? We found out Monday on part one of the two-part Bachelor finale.
Monday's episode began with host Chris Hanson and his crew finally tracking down Colton, who had just been rejected by Cassie, and convincing him to go back to the hotel. After a long conversation, Colton tells Hanson that despite Tayshia and Hannah G. both expressing their love for him, Cassie was the one who "shut my heart off." He decided he wasn't going to let Cassie walk away without a fight.
The next day, he shows up at Tayshia's door and tells her that while she's "incredible," his heart belongs to Cassie. They disappear behind her hotel room door where, incredibly, Tayshia, who is in the midst of getting dumped by Colton, ends up consoling him. "So this is, like, it?" she finally asks, to which Colton replies, "Yes." Reality finally begins to set in as Tayshia rides off in tears.
At the live finale party, Tayshia and Colton faced each other for the first time since the breakup. After pointing out the "amazing moments" they shared together — bungee jumping, setting off a lantern in Thailand, and skydiving — she wants to know, "What was missing?" Colton answers that there was nothing wrong with their relationship, but regarding Cassie, his heart was simply "closed off" and "completely hers."
Meanwhile, Hannah G, having no idea of what has transpired over the past couple of days, waits excitedly for her chance to spend a night with Colton in the Fantasy Suite. But she gets a gut punch when he arrives at her door and he gives her the same speech he gave Tayshia. "I thought it was going to be you," he tells Hannah, adding "You still remind me of home." Hannah doesn't let Colton off the hook as easy as Tayshia did, and says she doesn't want to leave Portugal without him. He tells her, "You shouldn't be anybody's back-up plan."
"Good luck," Hannah says, as Colton leaves the room. As she enters the van waiting to take her to the airport, she snaps, "I don't want to talk about it." Colton seems to be taking the split even harder, once again sobbing uncontrollably outside the hotel, wondering if he's given away "a for sure thing for something that's impossible."
Back at the live finale, Hannah had another emotional encounter with Colton after pressing him about a particular moment from last Monday's episode, in which he told Cassie that when he's with the other women, he's only thinking of her. "I'd be lying if I said it didn't feel like a slap in the face when you told Cassie when you were with her you thought about other people," she says. "It sucked."
When Hanson asks Colton whether it was something he really felt, or if he only said in the height of passion, Colton answers, "Yes, that was something I felt."
The action then returns to Portugal, where Colton is seen working up the nerve to give another try to saving his relationship with Cassie, thought it seems she's already made up her mind. As Cassie packs her things, she tells the camera that while she's sad to break up with Colton, she's just not ready to make a commitment." All she wants right now is to be "back home with my family and get on with my life."
The episode ends with Colton knocking on Cassie's door. The camera breaks away, leaving us with the sound of the door opening and Colton saying, "Hey."
The Bachelor season 23 finale concludes Tuesday at 8 p.m. ET on ABC.
Copyright © 2019, ABC Radio. All rights reserved.