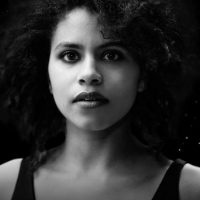 CBS All Access(LOS ANGELES) — Jordan Peele's upcoming Twilight Zone reboot has added two familiar faces to its cast.
According to Deadline, Zazie Beetz and Get Out's Betty Gabriel have been tapped to star in Peele's upcoming CBS All-Access revival of the popular sci-fi series.
Fans knows Beetz for her role as Vanessa in FX's Atlanta and more recently as Domino in Deadpool 2, while Gabriel appeared as the creepy housekeeper Georgina in Peele's Oscar-winning directorial debut, Get Out.
The original Twilight Zone aired on CBS from 1959 to 1964. The award-winning anthology series used science fiction, fantasy and horror stories to explore social issues of the day. There was also a 1983 Twilight Zone movie produced by Steven Spielberg, as well as two other short-lived TV reboots. The most recent, in 2002, was hosted by another Oscar-winner, Forest Whitaker.
As previously reported, Peele's reboot of the series will feature an all star cast which includes Sanaa Lathan, DeWanda Wise, Jessica Williams, Damson Idris, Kumail Nanjiani, Adam Scott, Jacob Tremblay, and more. Peele will both host and narrate the series project.
The Twilight Zone will air the first two episodes on April 1 on CBS All Access; subsequent to that, new episodes of the anthology series will be available on demand weekly on Thursdays beginning April 11.
Copyright © 2019, ABC Radio. All rights reserved.