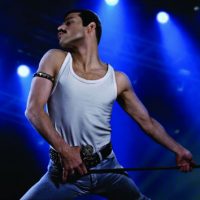 Rami Malek in "Bohemian Rhapsody" – 20th Century Fox(NEW YORK) — During his lifetime, iconic Queen singer Freddie Mercury was friendly with Elton John. Now Elton has posted photographic proof that he approves of Rami Malek's Oscar-winning portrayal of Mercury in the movie Bohemian Rhapsody.
In the photo, Elton poses backstage with Malek and his girlfriend Lucy Boynton, who played Mercury's one-time fiancee Mary Austin in the film.
"Thank-you @ramimalek and @lucyboynton1 for coming to my Brooklyn show," Elton captioned the photo. "Rami has set the world on fire with his Oscar winning portrayal of my old friend Freddie Mercury in the hit film @bohemianrhapsodymovie." John played at Barclays Center in Brooklyn, New York, this past Friday and Saturday.

Elton is also an Oscar winner, having taken home the Academy Award for Best Original Song in 1995 for "Can You Feel the Love Tonight" from The Lion King.

Meanwhile, Elton's own biopic, Rocketman, arrives in theaters this May. Of note, back in the '70s, both Elton and Queen were managed by the same guy, John Reid. In Bohemian Rhapsody, Reid is portrayed by Game of Thrones actor Aidan Gillen. In Rocketman, he is portrayed by another Game of Thrones actor, Richard Madden.
Copyright © 2019, ABC Radio. All rights reserved.