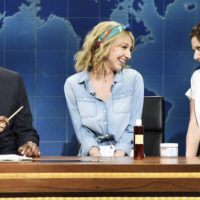 NBC/Will Heath(TEXAS) — During Saturday's installment of Weekend Update on Saturday Night Live, cast member Heidi Gardner reprised her role as Baskin Johns, a flustered employee of Gwyneth Paltrow's lifestyle company Goop — but this time, Paltrow herself made an appearance.
At a panel at the South by Southwest Festival in Texas Monday morning, Deadline reports that Paltrow joked about the cameo, noting, "It's always important to have a sense of humor about everything in life."
The gist of the sketch is that Baskin and her fellow employees live in fear of "Queen Gwyn" discovering that they're completely ignorant about the products that Goop sells.
On Saturday, a floundering Baskin, terrified of being fired, called in her supervisor Fifer for help — and none other than Paltrow played her.
"I'm really nervous I'm going Gwyneth is going to fire me," says Baskin, only to have Gwyneth-as-Fifer correct her by saying, "Gwyneth doesn't believe in firing. It's called 'conscious unemploying.'"
That was, of course, a reference to Paltrow's description of her divorce from ex Chris Martin as "conscious uncoupling."
The joke was that Gwyneth-as-Fifer proves to be equally inept at describing Goop products, but both she and Baskin were able to answer Update co-host Michael Che's question of what Goop stands for: "Gwyneth Opens Our Paychecks."
According to Deadline, during the panel, Paltrow told moderator Poppy Harlow, "As they say in Buddhism, 'to live is to struggle' — you have to have a sense of humor through it….You kind of accept who you are…and you bring an ease and humor into it."
She has reason to smile: The panel was organized to promote the fact that she's spinning off Goop into its own Netflix series.
Copyright © 2019, ABC Radio. All rights reserved.