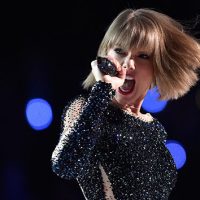 Kevork Djansezian/Getty ImagesTaylor Swift's alleged stalker faces up to five years in prison, and maybe more, following his arraignment Thursday afternoon in New York's Manhattan Criminal Court for attempted burglary and other charges.
Roger Alvarado, 23, of Homestead, FL, was arrested Thursday after he broke into a townhouse Taylor owns in New York's TriBeCa neighborhood. Alvarado's alleged to have climbed a ladder to the townhouse, used a brick to break a glass window and then attempted to remove property from inside. Taylor wasn't in the townhouse at the time, which is currently being renovated.
Alvarado is charged with stalking, burglary, felony criminal contempt for violating the order of protection, criminal mischief, and two counts of possession of burglary tools — namely, the brick. He faces up to five years in prison if convicted on those charges, but could face up to seven years total if pending charges are added related to whether he successfully gained access to Swift's apartment.
The judge on Thursday set Alvarado's bail at $75,000 and also placed a temporary protective order against him.
Taylor already has an order of protection against Alvarado from a 2018 incident, in which he broke into the same location, used her shower and was found sleeping in her bed. He pleaded guilty, was sentenced to six months in jail, and ordered to complete a mental health program.
Alvarado's due back in court Tuesday, March 12.
Copyright © 2019, ABC Radio. All rights reserved.