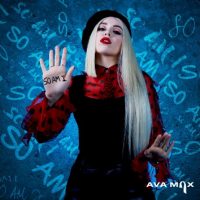 Atlantic RecordsAva Max is following up her breakout hit "Sweet but Psycho" with her new single "So Am I," which has just been released, along with its video.
"'So Am I' is about loving yourself, being different, being an outcast and not fitting in the format that society wants to put us in – just celebrating what really makes you different," Ava says in a statement.
She adds, "Whenever I'm feeling down, I remind myself that my flaws make me perfect, because in reality there is no perfect."
The video starts with Ava walking down a school hallway as a snippet of "Sweet but Psycho" plays. As she opens up her locker, the new song kicks in, as she sings, "Do you ever feel like a misfit/Everything inside you is dark and twisted/Oh, but it's okay to be different/'Cause baby so am I."
In the rest of the clip, which recalls Britney Spears' iconic video for "Baby…One More Time," Ava dances through the school hallways and in classrooms with a bunch of other students who are all "misfits." At the end, they end up on standing in a line on the football field, where they all reveal they have the words "So Am I" written on their palms.
Meanwhile, "Sweet but Psycho" has racked up some 750 million streams.
Copyright © 2019, ABC Radio. All rights reserved.