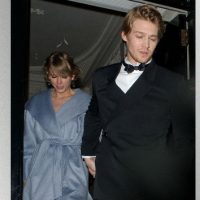 GOR/GC ImagesTaylor Swift lost out at the Grammys Sunday night to Ariana Grande, but she wasn't there to experience it. Instead, she was by her boyfriend Joe Alwyn's side in London that night as his project — the movie The Favourite — raked in the accolades at the British Academy of Film and Television Arts (BAFTA) awards.
While Joe himself didn't take home any trophies, the movie itself won seven awards, including Outstanding British Film, Director and Original Screenplay. "AHHHHH @thefavouritemovie just won 7 @bafta awards !!!" Taylor wrote on Instagram. "Bout to go give some high fives."
Taylor posted a photo of herself wearing a pale blue, flowing Stella McCartney dress with a plunging neckline. She didn't walk the red carpet, but reporter and TV personality Dan Wootton posted photos of her "sneaking into" the event and embracing Joe. "The most affectionate they've been yet," he wrote.

Taylor and Joe were also seen exiting an after-party hand in hand.
Copyright © 2019, ABC Radio. All rights reserved.