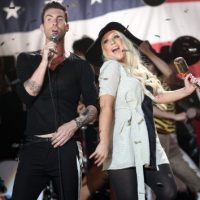 Christopher Polk/Getty Images for A&M/OctoneWe don't know which teams are going to the Super Bowl, but that doesn't mean you can't start betting on the big game now. At least one online betting site already has its prop bets posted, including bets about this year's halftime show with — we assume — Maroon 5.
Even though the NFL hasn't officially announced it, conventional wisdom has it that Adam Levine and the guys will be entertaining us during halftime. The online betting site Bovada is offering a number of prop bets on that topic, including whether or not Adam will be wearing a hat when he takes the stage, and the number of songs that will be performed.
Another bet is whether or not Christina Aguilera will make an appearance during the show. This bet actually makes some sort of sense, considering the fact that she and Adam know each other from The Voice, and that she and Maroon 5 scored a #1 hit together with "Moves Like Jagger."
Right now, Bovada is offering 2/1 odds that Christina will show up, so if you take that bet and she does, you'll make a bunch of money. Bovada is also giving odds that Adam will wear a hat — which is weird, because he usually doesn't. As for the number of songs that we'll hear, the over/under is 7.5.
Copyright © 2019, ABC Radio. All rights reserved.