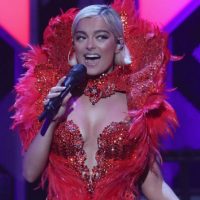 Kevin Kane/WireImageOn Friday, Bebe Rexha was nominated for two Grammys: Best Country Performance by a Duo or Group for "Meant to Be," and Best New Artist. Bebe realizes it's pretty weird that she's up for Best New Artist — considering she's been working in the music industry in one capacity or another for a decade — but she'll take it.
"I know! Best New Artist, 10 years later! Woo-hoo!" Bebe laughed when ABC Radio mentioned how long she's been in the business.
"But you know what? To the world, to certain people, I am a new artist, and that's how you gotta think about it every day, y'know? You gotta work to be the best that you can be, and not get too jaded and think that you're the s**t."
As far as her nominations are concerned, Bebe says her childhood self is pretty much satisfied, so she doesn't even care if she wins.
"Honestly, I feel like I won today," she told ABC Radio. "The fact that I just got nominated is so incredible, because for me, [the] Grammys is like what I grew up watching as a child. And for me, it was that I just wanted to be recognized by my peers."
What Bebe means is that, unlike, say, the American Music Awards or the Billboard Awards, the Grammy is a peer award. It's voted on solely by the members of the Recording Academy, all of whom work in the music industry. You can find out if she'll take home either of those trophies when the ceremony airs February 10, 2019 on CBS, live from in Los Angeles.
Copyright © 2018, ABC Radio. All rights reserved.