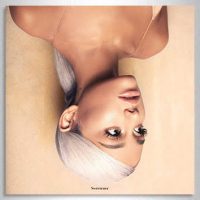 Dave Meyers/Republic RecordsTwo powerhouse female stars earned Entertainment Weekly's nod for two of the best albums of 2018: Ariana Grande and Camila Cabello.
On EW's list of the Top 20 Albums of 2018, Ariana's Sweetener comes in at #3. Calling it "her most complex project to date," EW says Sweetener — in part thanks to Ari's "inimitable voice" and co-producer Pharrell's beats — is a "a beautiful and minimalistic world that would bring any bitter taste to a halt."
Camila's solo debut, Camila, ranks #10. EW writes that the album is "an intimate, almost criminally pretty collection of delicate midtempo ballads and confessionals anchored by the sunny…swagger of…'Havana.'" The publication says Camila "sounds like an artist already completely at home in her own skin."

Cardi B's debut Invasion of Privacy ranks #2 on EW's list: The publication says it proved that Cardi "really was worth the superstar hype, haters be damned."
EW's #1 album of 2018 is Golden Hour, by envelope-pushing country star Kacey Musgraves. Other albums on EW's Top 20 Best include Janelle Monae's Dirty Computer, the Black Panther soundtrack, By the Way, I Forgive You by Brandi Carlile, and Astroworld, by Travis Scott.
It's worth noting that all of the albums just mentioned were also nominated for Grammys Friday morning.
Copyright © 2018, ABC Radio. All rights reserved.