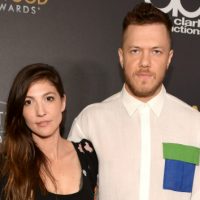 Matt Winkelmeyer/Getty Images for HFAImagine Dragons frontman Dan Reynolds and his estranged wife Aja Volkman are trying to reconcile their relationship, US Weekly reports.
A source close to the couple tells the celebrity mag, "Dan and Aja are trying to works things out."
In an interview with Apple Music last week, Reynolds revealed that he and Volkman, who announced their separation this past April, were "kind of back together."
"This last year, I went through a divorce, but we never signed the papers," Reynolds said. "I've been home and we kind of decided, well, let's just hold off for a minute. Now, we're kind of dating, and it's weird because we're separated, but we're dating."
On November 4, Reynolds and Volkman attended the Hollywood Film Awards together in Los Angeles, where Dan's documentary Believer was honored with the Hollywood Documentary Award.
And if you need even more evidence that things are good between the two couple, Reynolds tweeted "I love Aja Volkman" on Tuesday.
In announcing their separation earlier this year, Reynolds wrote, "After 7 beautiful years together, Aja and I's marriage has come to an end. Our children continue to be the most important thing in our lives, & we will continue to co-parent them with all our love."
Reynolds and Volkman have three children: six-year-old Arrow and one-year-old twins Coco and Gia.
Copyright © 2018, ABC Radio. All rights reserved.