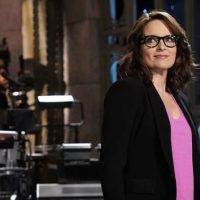 Rosalind O'Connor/NBC(NEW YORK) — Nicki Minaj is headed back to Saturday Night Live tomorrow as the show's season finale musical guest. The long-running sketch comedy series announced the rapper's appearance back in April via Twitter.
Three promos for the episode, starring Minaj and scheduled guest host and former SNL cast member and head writer Tina Fey have also been released. One shows Tina trying desperately to appear cool enough to use the word "lit," and another has her trying to pitch a sketch to Nicki, which she rejects only to agree to turn it into a feature film.
This will be Nicki's fifth time gracing the SNL stage to perform. She was a musical guest in 2011 and 2014 and made cameo appearances for Drake and The Weeknd's sets in 2011 and 2015, respectively.
She also announced the June 15 arrival of her forthcoming album, Queen, on the Met Gala red carpet in early May. Queen is Nicki's follow-up to her disc The Pinkprint, which was released in 2014.
Saturday Night Live begins airing at 11:30 p.m. ET on NBC.
Copyright © 2018, ABC Radio. All rights reserved.