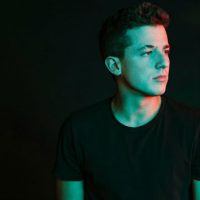 Catie LaffoonYou probably wouldn't realize it by listening to his music, but Charlie Puth says he'd like his songwriting to be just like Bruce Springsteen's.
In a video segment for Beats 1, Charlie says of The Boss, "I love that he can get on a stage in front of 50,000 people and they can all scream the lyrics. I'd like to model my music, as far as storylines go, on the way that he writes his music. It's very all-around inspiring."
Charlie also admits that there are many songs that make him cry, because he's a "very sensitive boy." The one that always does it, though, he says, is Celine Dion's version of Eric Carmen's 1975 hit, "All By Myself."
Charlie also says he got the idea for one of his biggest hits after eating some "really, really wack food at a buffet."
He says, "I was overseas and I got this horrible bad stomach pain from this uncooked food and as I was moaning in bed in my hotel room, I came up with this really good song idea. And that song idea was 'We Don't Talk Anymore.' Which is kinda strange."
Charlie's new album, Voicenotes, is out now. It just came out on Friday but it's already been certified gold, thanks to his huge streaming numbers.
Copyright © 2018, ABC Radio. All rights reserved.